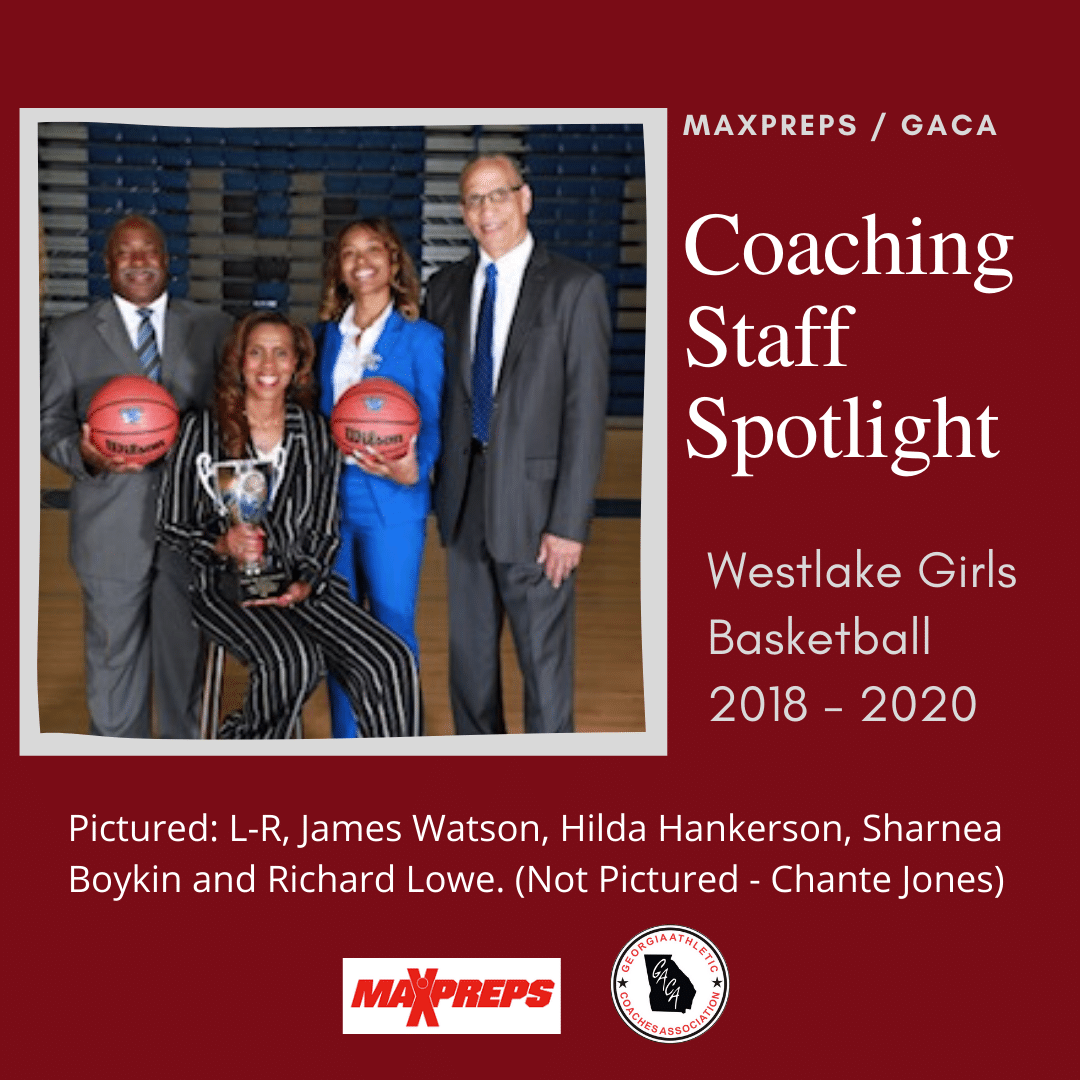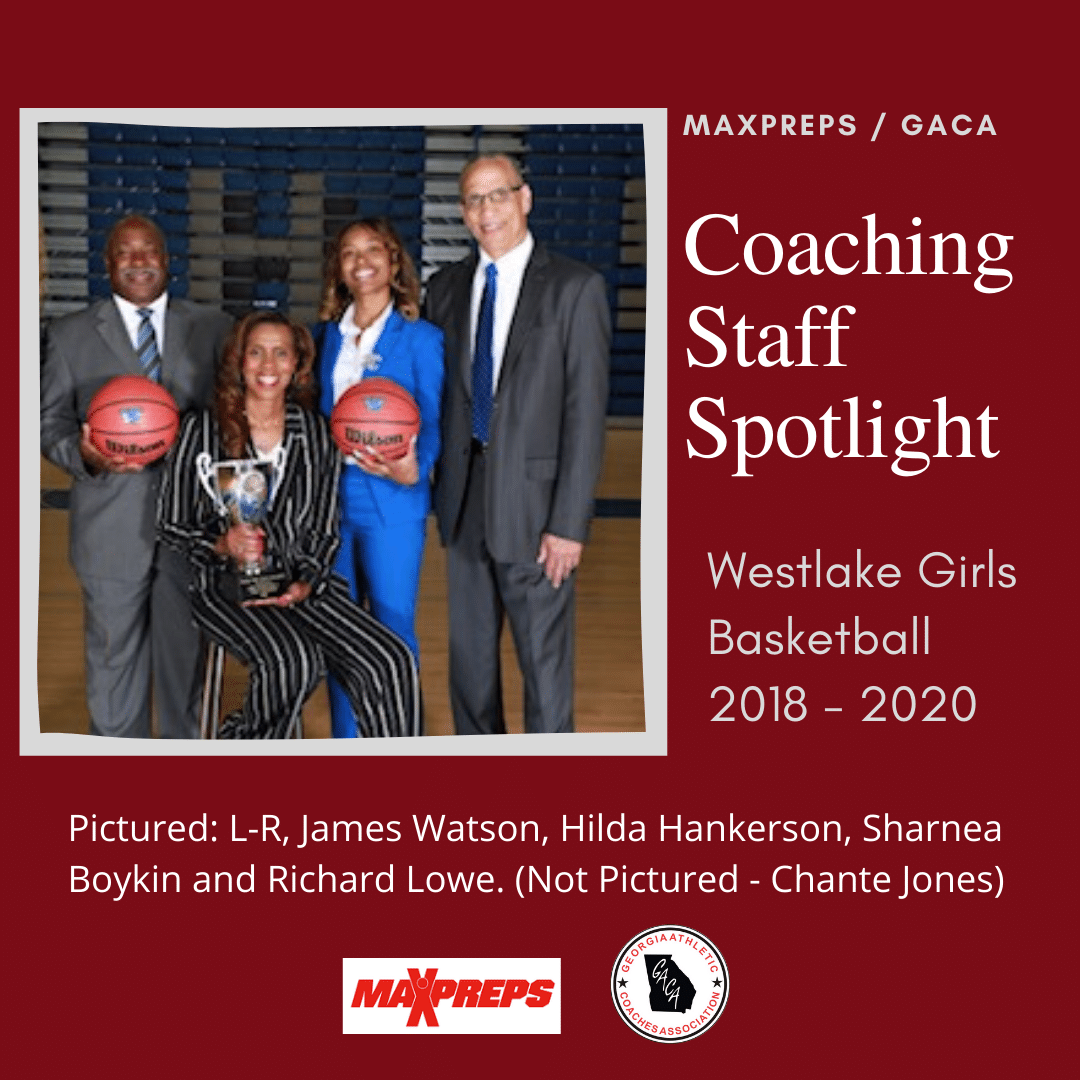 Westlake
Coaching Staff
MAXPREPS / GACA COACHING STAFF SPOTLIGHT
The Westlake Girls Basketball Program won three state GHSA Championships in three (3) years from 2018-2020!
They have not lost a game (in Georgia) and post a Georgia record of 90 wins and 0 Losses during this championship run! In 2018, The Westlake Girls lost 1 game in Florida and 1 Game in NY at the Geico National Tournament. They were undefeated in 2019 with a record of 30-0 and in 2020 they went 30-2 to include their 3rd straight GHSA Championship!
Westlake Girls Basketball, L-R, James Watson, Hilda Hankerson, Sharnea Boykin and Richard Lowe. (Not Pictured- Chante Jones).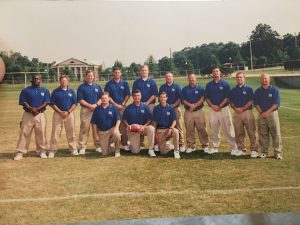 LaGrange
Coaching Staff
MAXPREPS / GACA COACHING STAFF SPOTLIGHT
LaGrange Football Coaching Staff 2001-2002
The Maxpreps / GACA Coaching Staff Spotlight is LaGrange High School Football from 2002.  The 2002 LaGrange High School Football Staff, under the leadership of GACA Hall of Fame Inductee Steve Pardue (2020), posted a record of 26 wins and 1 loss to include a GHSA State Championship in 2001! LaGrange Football suffered its only loss in those two years to Screven County in 2002 as they were defeated by one point 15-14 to be eliminated from back to back state championships.
Bottom picture. Back row: Ahmand Tinker, Mike Pauley, David Pleasants, Thomas Crocker, Richard Childs, Todd Herrington, Kenny Moore, Jamie Bozeman, Jason Willis, Darren Gravat¿
Front row: Donnie Branch, Steve Pardue, David Traylor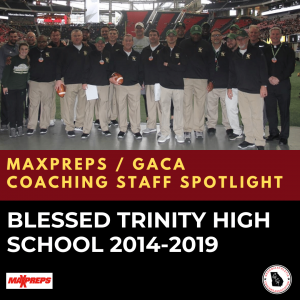 Blessed Trinity
Coaching Staff
MAXPREPS / GACA COACHING STAFF SPOTLIGHT
BLESSED TRINITY HIGH SCHOOL
2014-2019
The Maxpreps / GACA Coaching Staff Spotlight is Blessed Trinity High School Football from 2014-2019.  Blessed Trinity High School Football is on a "HOT" streak that in the past 6 years has compiled a record of 79-7 with 3 State Championships and 5 Region Championships! The Head Coach during this period of success is Coach Tim McFarlin and there have been few changes over the years on his staff. Below is the 2018 Staff in the Dome of the GHSA State Championship game. This picture also includes administrators and support staff.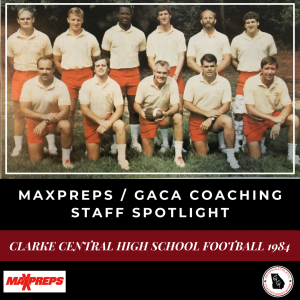 Clarke Central HS
Coaching Staff
MAXPREPS / GACA COACHING STAFF SPOTLIGHT
CLARKE CENTRAL HIGH SCHOOL 1984
The Maxpreps / GACA Coaching Staff Spotlight is Clarke Central High School Football from 1984.  The 1984 Clarke Central Football Staff, under the leadership of Legendary Head Football Coach Billy Henderson, had 5 of the 10 assistant coaches move on to become Head Football Coaches in Georgia!  Chuck Conley- (Screven County, Gainesville, Perry, Jenkins County), Ben Scott- (Kendrick, Carrollton), John Barnette- (SE Whitfield, Oconee County), Ed Dudley- (Buford, Walton, Ware, Carrollton, Winder-Barrow), Brady Sigler- (Madison County, Elbert County).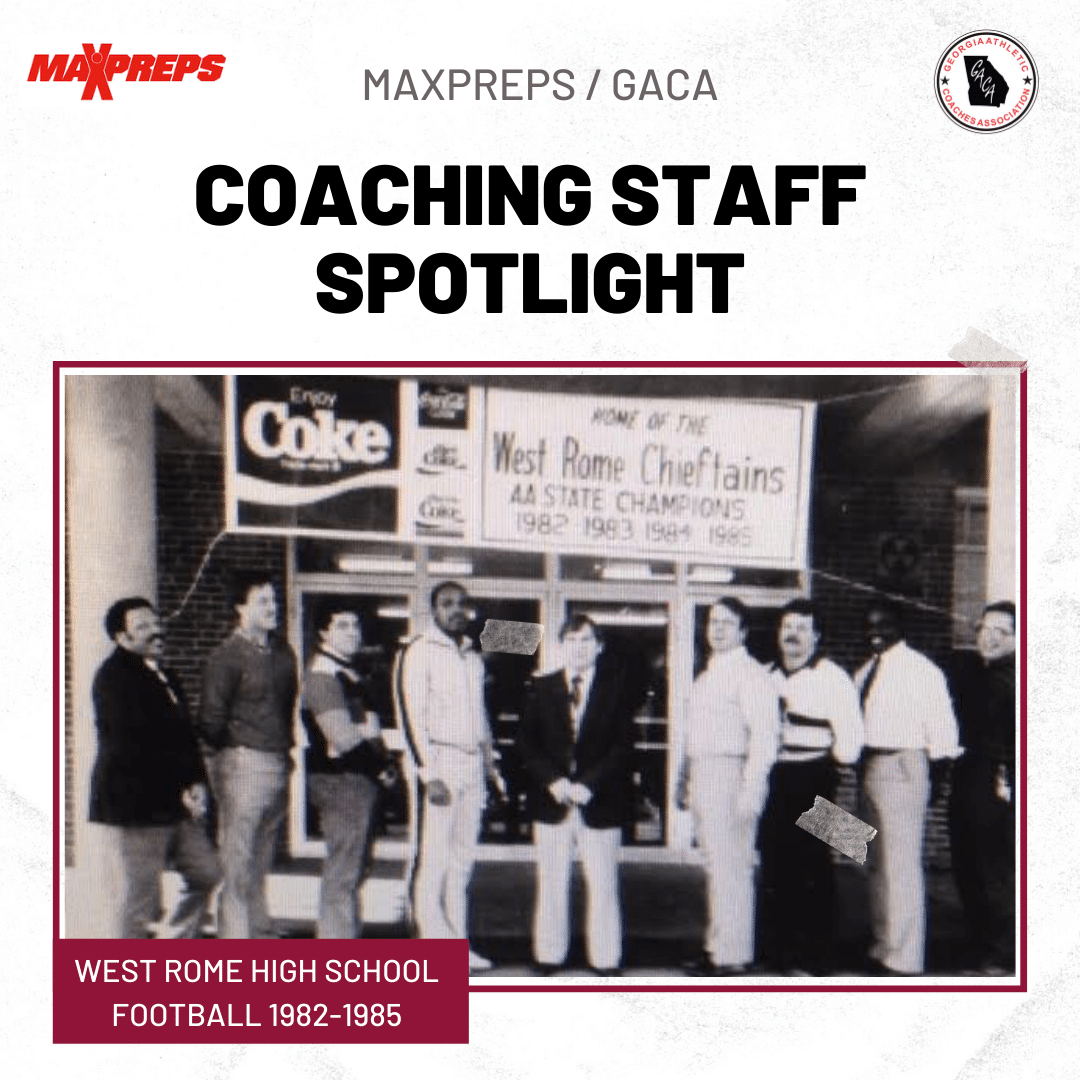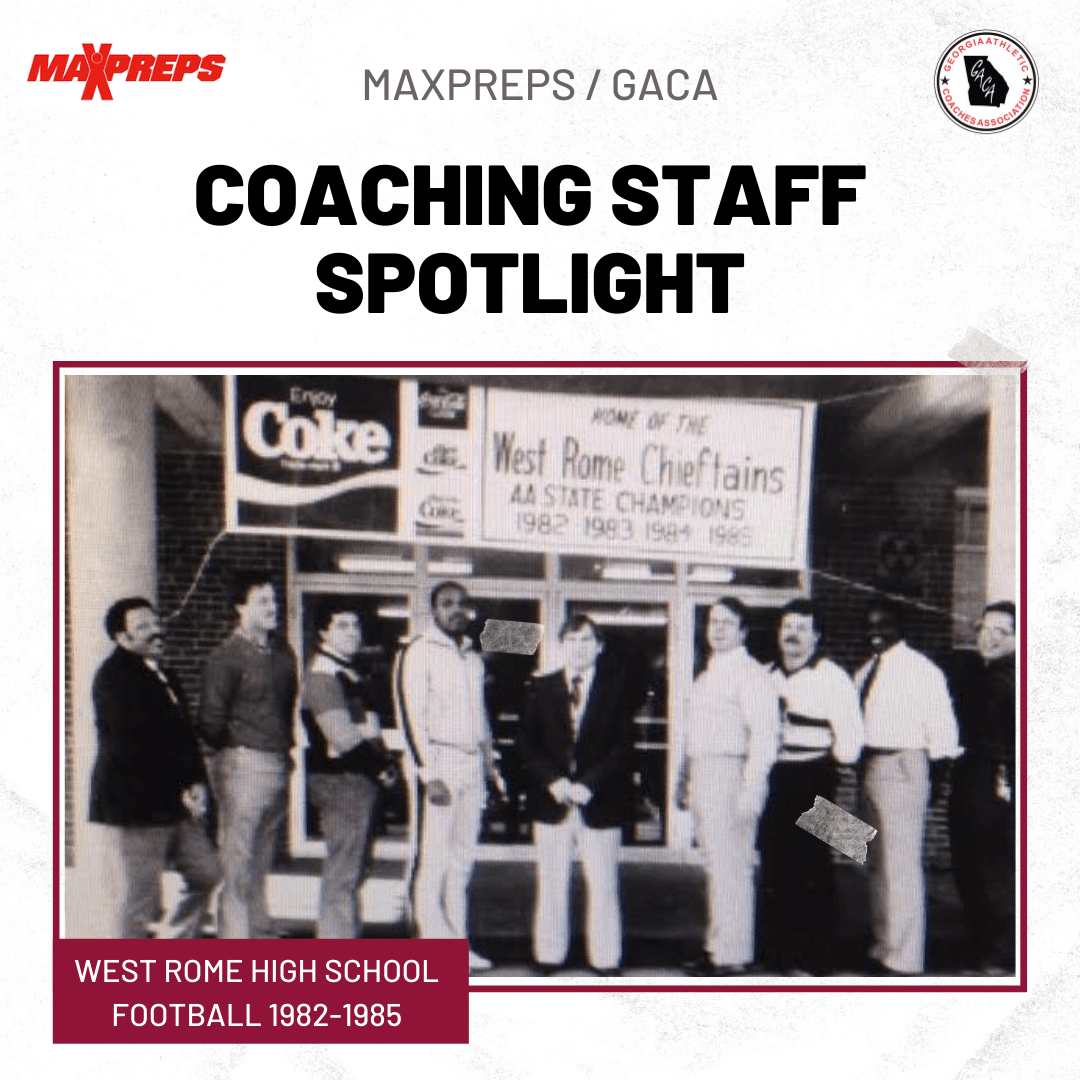 West Rome HS
Coaching Staff
MAXPREPS / GACA COACHING STAFF SPOTLIGHT
WEST ROME HIGH SCHOOL
1982-1985
The Maxpreps / GACA Coaching Staff Spotlight is West Rome High School Football from 1982-1985. West Rome High School Football compiled a record of 59-1 with 4 State Championships and they did this under 3 different Head Football Coaches! The 3 Head Football Coaches were Mike Hodges, 1982 and 1983 (retired), Rodney Walker, 1984 (retired), and Charles Winslette, 1985 (Putnam County). All three of these coaches have been inducted into the GACA Hall of Fame in Dalton, Ga! Mike Hodges- 2012 / Rodney Walker- 2014 / Charlie Winslette- 2013!
Pictured below from left to right…Asst. Principal Robert T. Lee, Geep Cunningham, Pat Burdette, Marvin Oliver, Principal John Baker, Head Coach Charlie Winslette, Marvin Barton, Norman Sims, Tim Nichols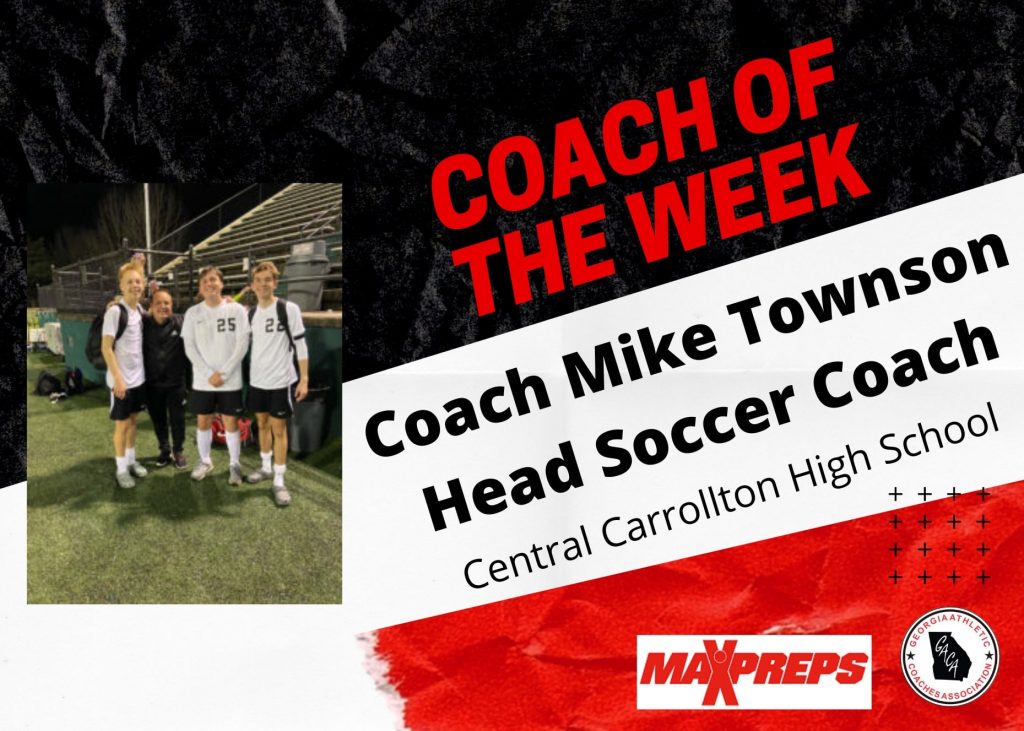 Mike Townson
Head Soccer Coach
The Maxpreps / GACA Coach of the week is Head Soccer Coach at Central Carrollton.
Head Coach Mike Townson's Central High School Lions won 3 matches this week over Troup County, Bowdon and Eagles Landing High School. Coach Townson is in his 4th season leading the lions and his 15th year as a head soccer coach.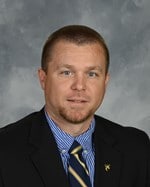 Ryan Strickland
Head Baseball Coach
The MaxPreps / GACA Coach of the Week is Ryan Strickland, Head Baseball Coach, Thomas County Central High School.  
Coach Strickland has been coaching for 14 years, 8 years as a head coach and is in his third year as head coach of the Thomas County Central Yellow Jackets. In his time as the head coach for Central, they are 46-28. More importantly, under his leadership players have developed confidence in playing the game in a professional manner while having fun as well as impacting the school community through participation in service projects such as Bows for Childhood Cancer, encouragement of social interactions through Baseball/Special Education events, and assistance in numerous local charity events.
The team has been awarded academic honors from the American Baseball Coaches Association for the past two years in addition to National Field of the Year honors for 2019-2020 from the American Baseball Coaches Association. In addition to his dedicating his time on the athletic field, Coach Strickland teaches Honors and AP Chemistry as well as Physical Science during the school day, being honored as Teacher of the Year in 2017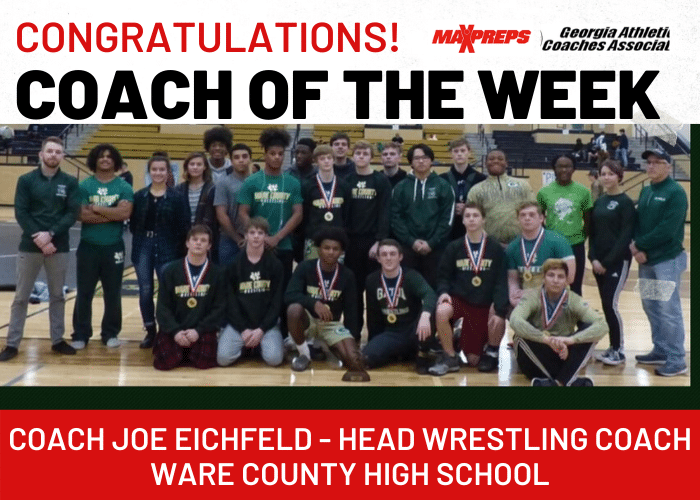 Joe Eichfeld
Head Wrestling Coach
The MaxPreps / GACA Coach of the Week is Coach Joe Eichfield, Head Wrestling Coach at Ware County High School in Waycross Georgia. 
Coach Eichfield is a long time High School Wrestling coach in Georgia and his Ware County Gators wrapped up the Region Traditional Championship last weekend at Wayne County High School.  The Gators also finished as Area Dual Champions and placed 6th in the GHSA state duals in their AAAAA Classification.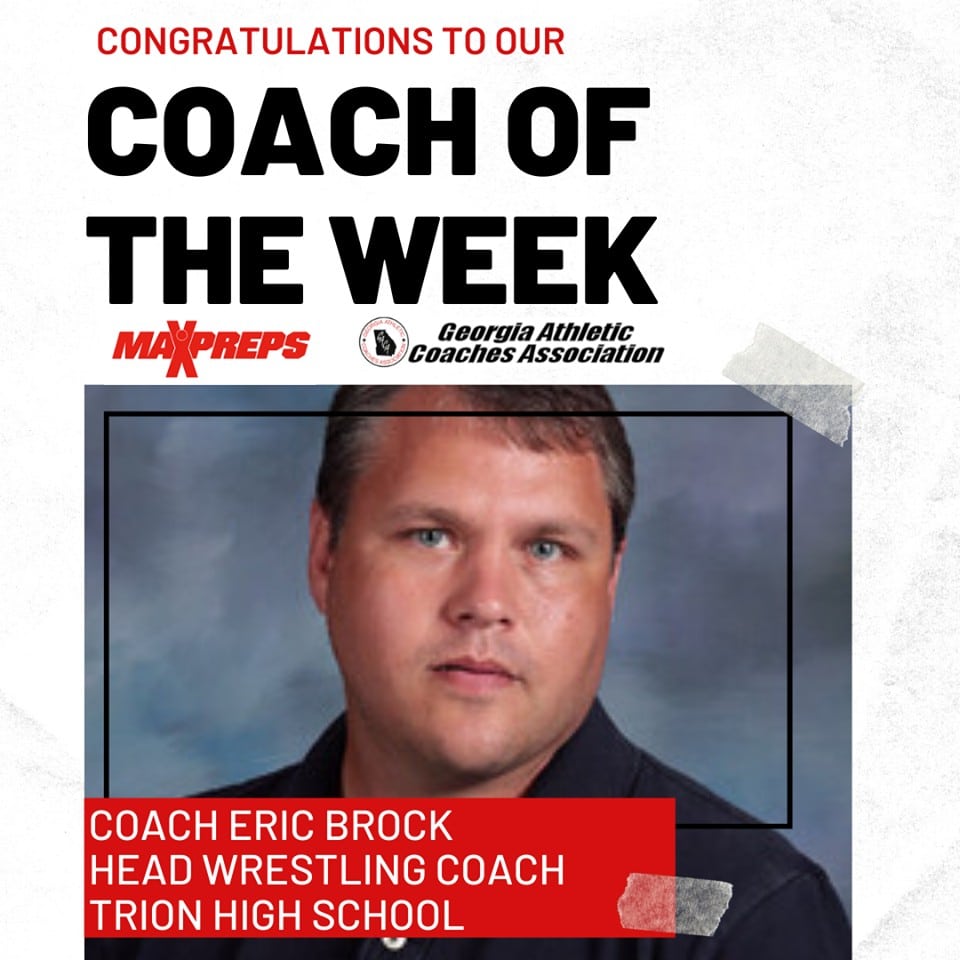 Eric Brock
Head Wrestling Coach
Eric Brock, Trion HS  Head Wrestling Coach is the MaxPreps / GACA Coach of the Week.
Coach Eric Brock, Head Wrestling Coach- Trion High School is the MaxPreps/GACA Coach of the Week! For the fourth straight year Trion Wrestling claimed the Area Dual championship. At the Dual Championship Tournament Bulldog Head Coach Eric Brock reached the career milestone of his 300th dual win in just his 13th season. During Brock's tenure the Bulldogs have averaged 20-30 dual wins each season.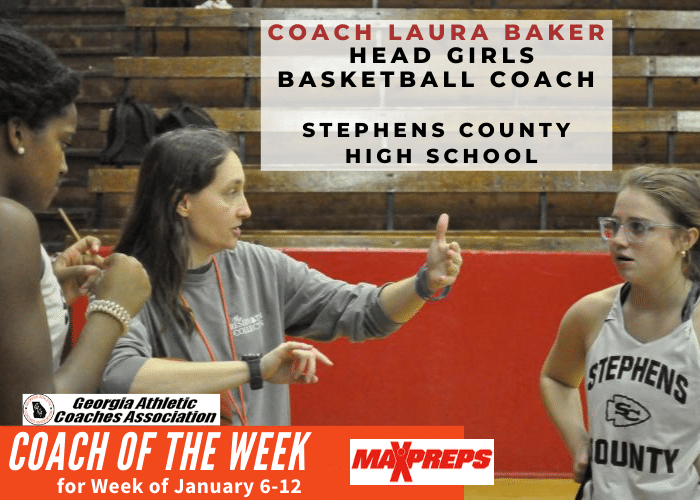 Laura Baker
Girls Basketball Coach
Laura Baker, Stephens County Head Girls Basketball Coach is the MaxPreps / GACA Coach of the Week. 
Coach Baker is in her 2nd year at Stephens County High School and is off to a 14-5 start after a record of 5-19 last year. Coach Baker as served as the assistant girls basketball coach at Franklin County High School.  Coach Baker has over 17 years of experience in coaching at both Franklin County High School and George Walton Academy. She has been part of State Runner Up Teams and Final Fours as well as 9 region championships.  Congrats to Coach Laura Baker for being recognized as the MaxPreps/GACA Coach of the Week!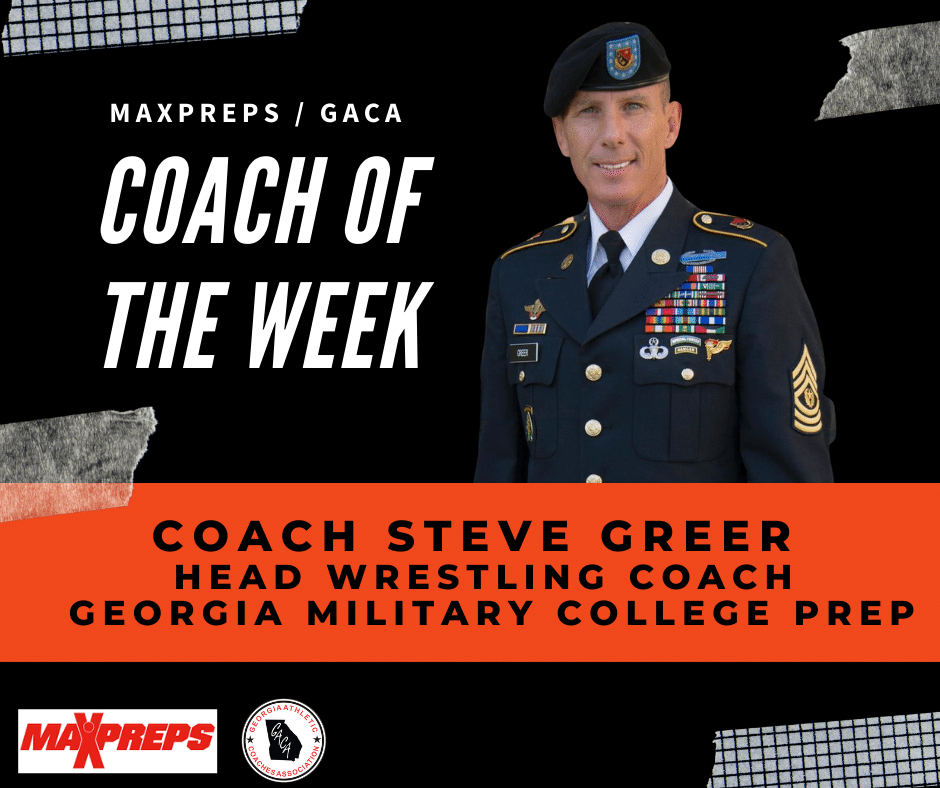 Dr. Steve Greer
Wrestling Coach
Coach Steve Greer, Head Wrestling Coach at Georgia Military College Prep, is the MaxPreps/GACA Coach of the Week.
Dr. Steve Greer, Command Sergeant Major, US Army (Ret), is the Head Wrestling Coach and Associate Principal for Georgia Military College's (GMC) Prep School. Greer is responsible for cadet discipline and supporting all athletic programs. Greer refers to himself as an "Army brat." He was born in Fort Campbell, KY., during his father's deployment to Vietnam. Greer spent many years in Northern Virginia while his father was assigned to various positions at the Pentagon, Fort Belvoir, and the Washington D.C. metro area. He's made education a top priority and says he is huge fan of life-long learning.
In 2008, he graduated from Capella University with a PhD in Education. "During my 20 years in the Army, I managed to complete an Associates, Bachelor's, and Master's degree while juggling some very challenging assignments as an Army Ranger and Special Forces soldier. Before coming to GMC, Greer served for eight years as an Army JROTC Senior Army Instructor at Dodge County High School in Eastman, Ga. He also started and coached the wrestling program at the school for both middle and high school teams. In 2011, Greer was a Top 10 Georgia Teacher of the Year Finalist. He is married to his wife, Jennifer, who is a former soldier. They have two children, Aiden, 16, and Abby,14.
MaxPreps Coach of the Week

Congratulations to our Coaches of the Week for 2019-2020.
The GACA / MaxPreps Coach of the Week Nominations are now open. Nominate your coach today. CLICK HERE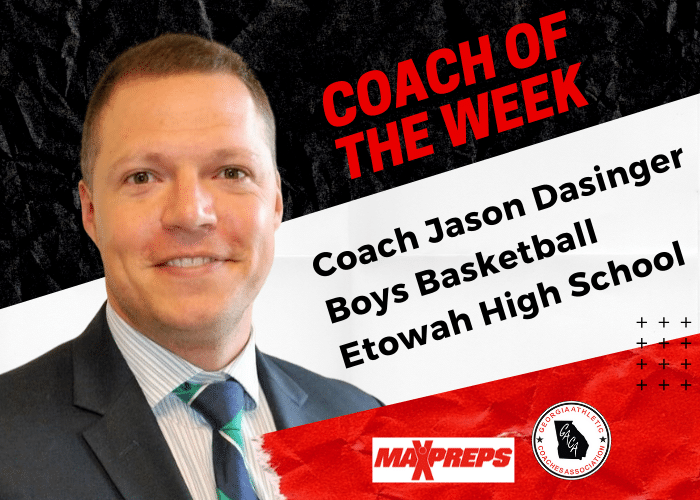 Jason Dasinger
Basketball
Basketball Coach – Etowah High School
Coach Dasinger is the Head Boys basketball coach and government teacher at Etowah High School. He has been coaching and teaching for 10 years(9 years at Pope High School and 1 year at Alpharetta High School). While at Alpharetta High School, He led the basketball team to their best record in school history(25-4). Coach Dasinger was also named Region 6 coach of the year. Coach Jason Dasinger was offered and accepted the head job at Etowah High School after one year at Alpharetta. During his first year at Etowah, Coach Dasinger went 24-3 winning the Region Tournament and was also named the 2018 Region Coach of the Year.  The 2019 Etowah program is off to a fast start with a record of 6-1 after suffering their first loss on Saturday December 7th to South Forsyth.
MaxPreps Coach of the Week

Congratulations to our Coaches of the Week for 2019-2020.
The GACA / MaxPreps Coach of the Week Nominations are now open. Nominate your coach today. CLICK HERE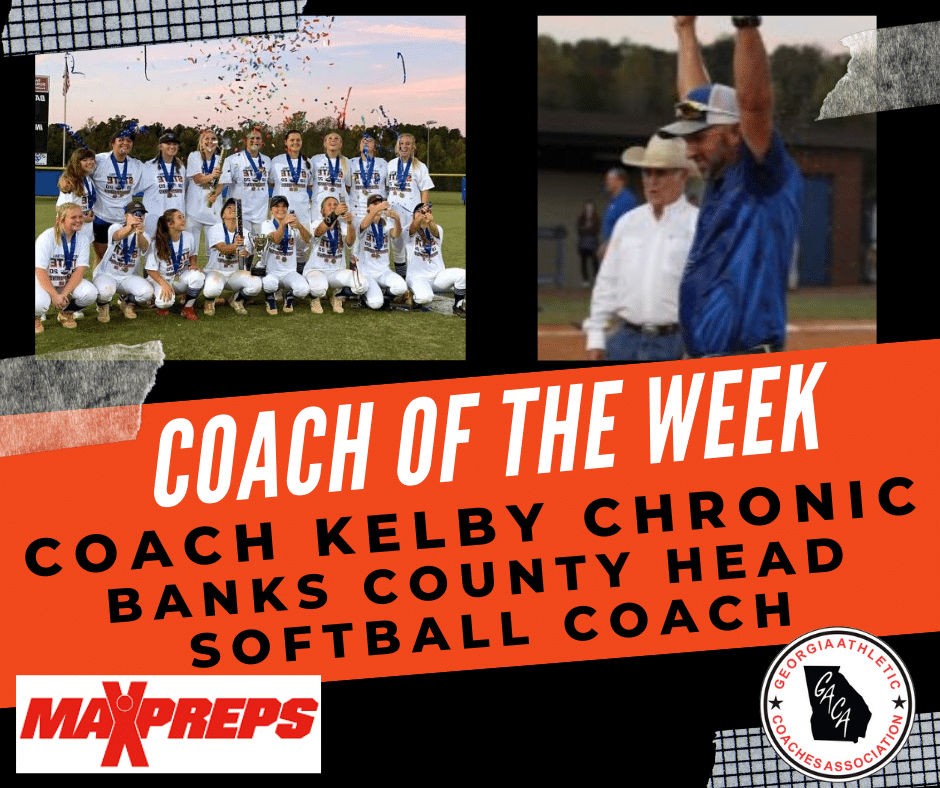 Kelby Chronic
Softball
Softball Coach – Banks County
Congrats to Coach Kelby Chronic, Banks County Head Softball Coach for being chosen GACA/MaxPreps Coach of the Week and for winning the 1st Softball State Championship in Banks County history!
First year head coach who loves his girls and always puts them first lead his the Banks County softball team in the playoffs that included wins over Bremen, Lamar County, and Rockmart in the Championship Brackets in Columbus!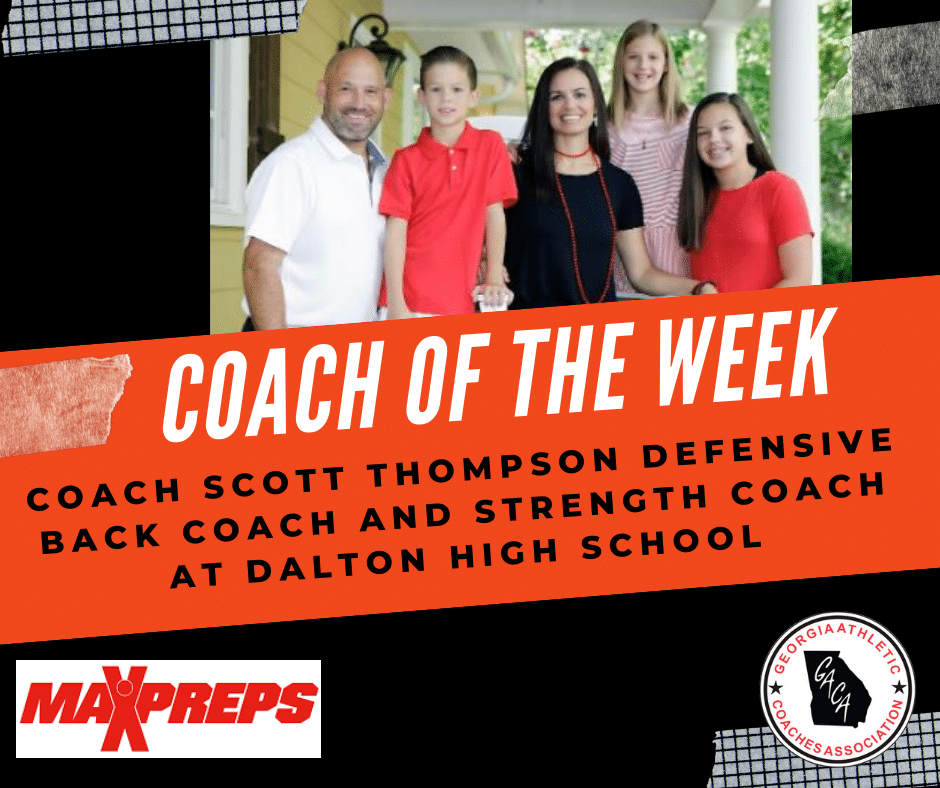 Scott Thompson
Defensive Back Coach
Defensive Back Coach — Dalton HS
Coach Thompson is our defensive back coach and strength coach at Dalton High School. He builds great relationships with his students and players. Over the years, I have watch him have to discipline his students and before the conversation is over, I have heard him tell each one that he loves them. He truly has a passion for kids and our students.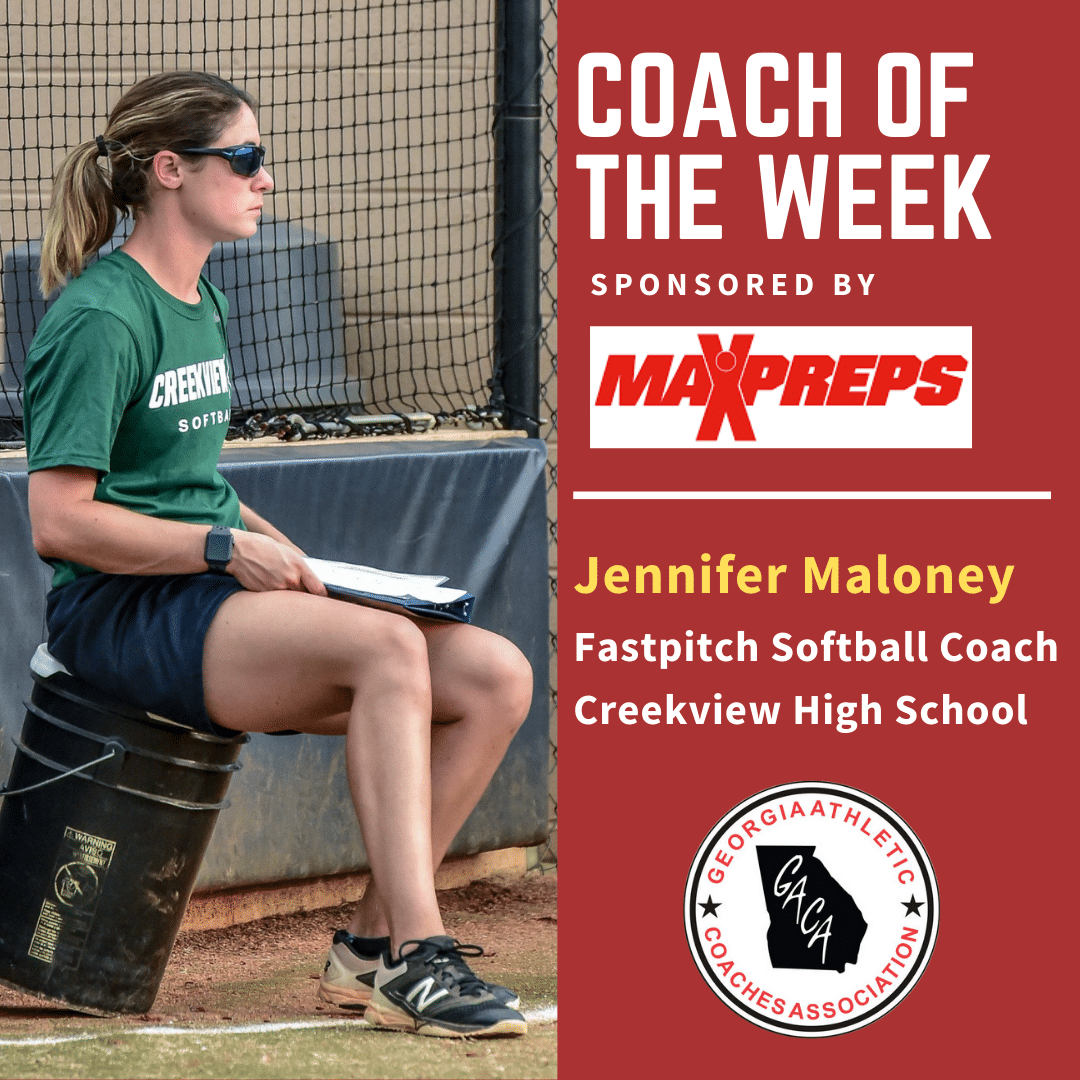 Jennifer Maloney
Softball
Head Softball Coach — Creekview HS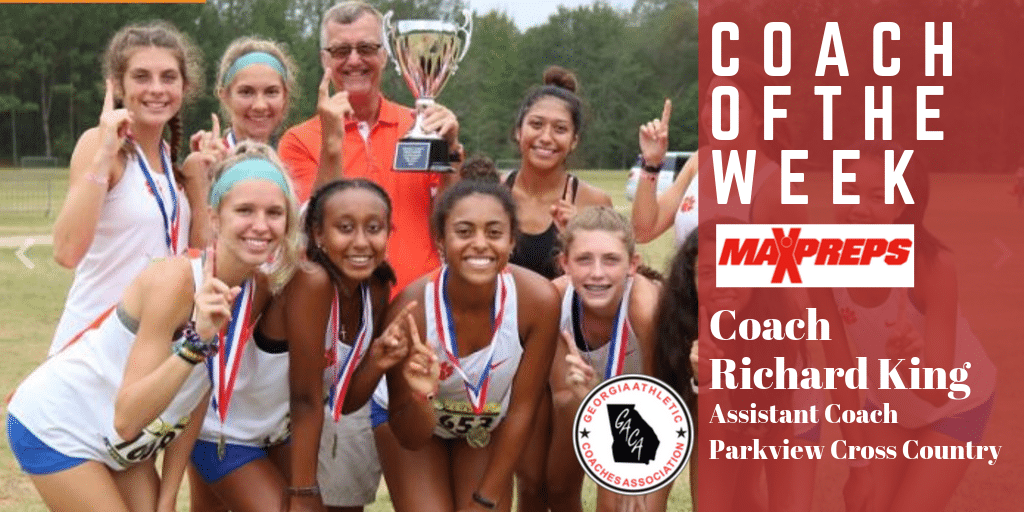 Richard King
Cross Country
Cross Country — Parkview HS
I am nominating Richard King (assistant coach) for Parkview ladies cross country. He is listed as "assistant" but has been the unofficial "head" girls coach for a long time. Richard helped lead our girls to the Gwinnett County Championship, the first women's team title since 1997 (he was coaching for us then, too!!!). He has been a coach with our XC and T&F programs since 1994. He is a pillar of the community and a tremendous asset. Our XC program does not have a "stats" page, but I included the Gwinnett Daily Post article about our ladies winning.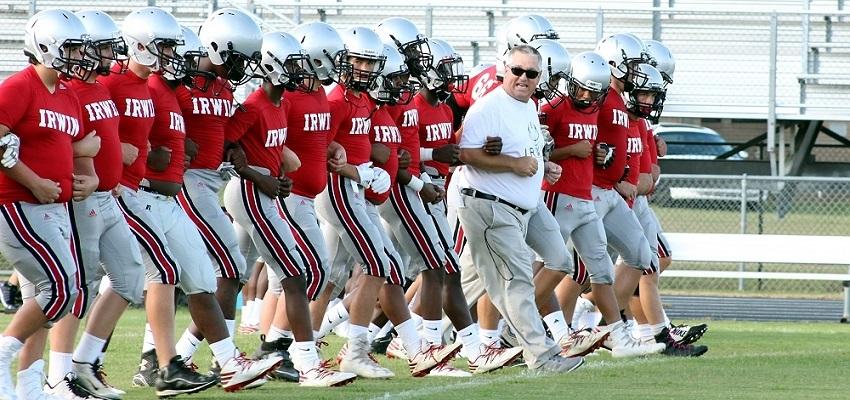 Buddy Nobles
Football
Head  Coach – Irwin County HS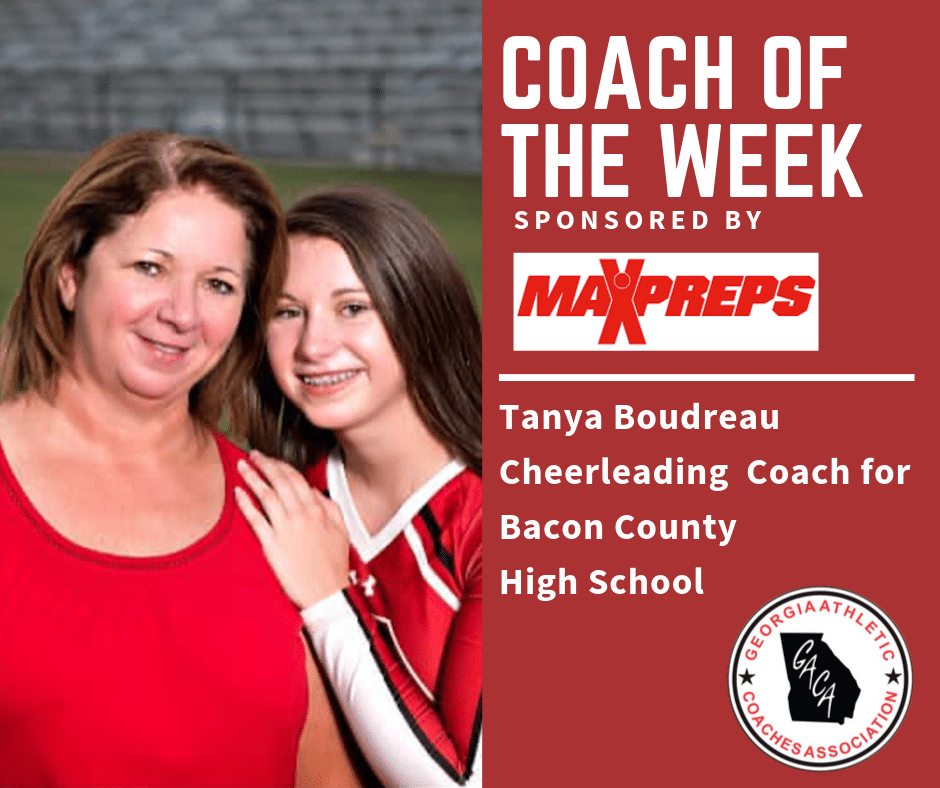 Tanya Boudreau
Cheerleading
Cheerleading Coach – Bacon County HS
Coach Boudreau has been coaching for many years but over the past 5 I have seen the quality of her athletes change tremendously. Her team this year looks amazingly strong and will find their way to the top. Her daughter graduated last year and many thought she would retire from coaching. However, she continues to lead her athletes with greater difficulty and stamina to find their way to the floor at State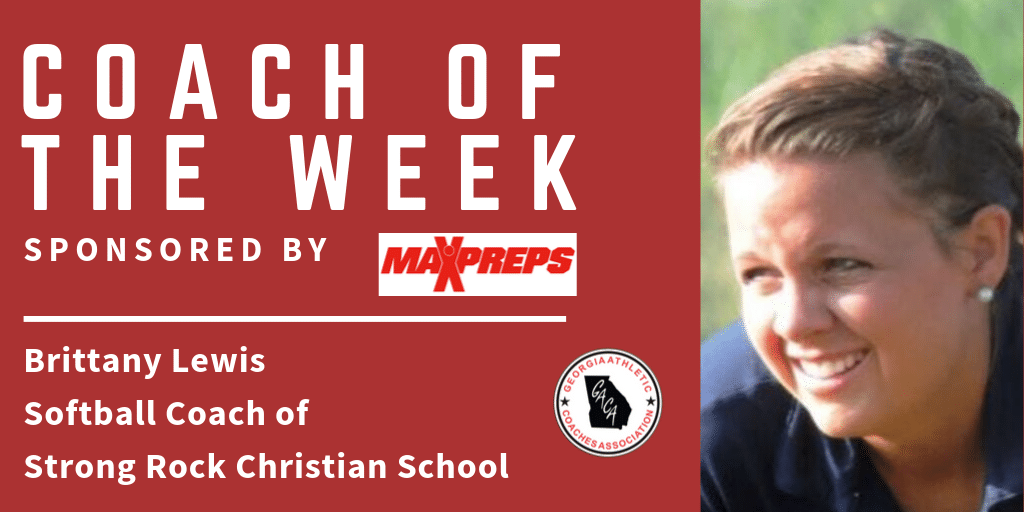 Brittany Lewis
Softball
Softball Coach — Strong Rock Christian School
Brittany Lewis was hired this year to take over a struggling program at Strong Rock Christian School. Last year the program went 7-11. She has no seniors on this year's team and seven freshman, six of which that start. The season has been one of growth, development, and creating a new mindset to win. Their current record is 17-9, 6-1 in region play, and they just finished runner up last weekend in the top Diamond Division of the Morgan County Bulldog Classic against all large classification public schools. Strong Rock has secured the 2 seed headed into the region 5-A tournament and is experiencing a very surprising turn around this year under new leadership.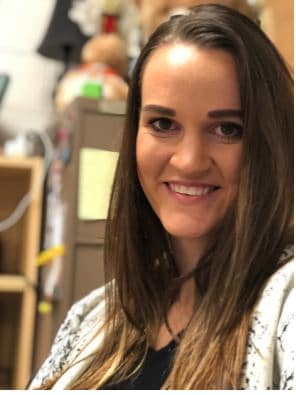 Kelsey Ikerd
Volleyball
Volleyball Coach — Northwest Whitfield HS
In partnership with GHSA's September Cancer Awareness Month, Coach Ikerd organized a special fundraiser and planned a memorial night to honor a local community member and Northwest Whitfield graduate who passed away from Pancreatic Cancer in Feb. 2019. Donations for the National Pancreatic Cancer Foundation were collected totaling over $300. She also led her team to two region victories on the special night.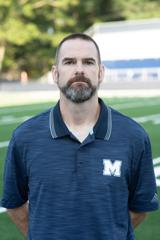 Jason Allen
Football
Offensive Coordinator — Marietta HS
Jason Allen is entering his fourth season with the Blue Devils, and his 17th season coaching high school football. Coach Allen is a big reason that the Marietta Blue Devils are off to a 3-0 start with wins over Rome, St. Joseph's Prep (Philadelphia, PA), and Collins Hill on Friday Night! Jason Allen is the Defensive Coordinator and Inside Linebacker Coach this season. Prior to Marietta, Coach Allen was the Head Football Coach at Potomac Falls High School in Sterling, Virginia from 2013-2015. He led the Panthers to three straight play-off appearances, and a top 10 defensive ranking in the state of Virginia among Division 5 schools. Congrats to Coach Jason Allen for being selected as the GACA / MaxPreps Coach of the Week! Thank you all for your nominations and remember to nominate your coaches in Football, Softball, Cheer or Cross Country each Week!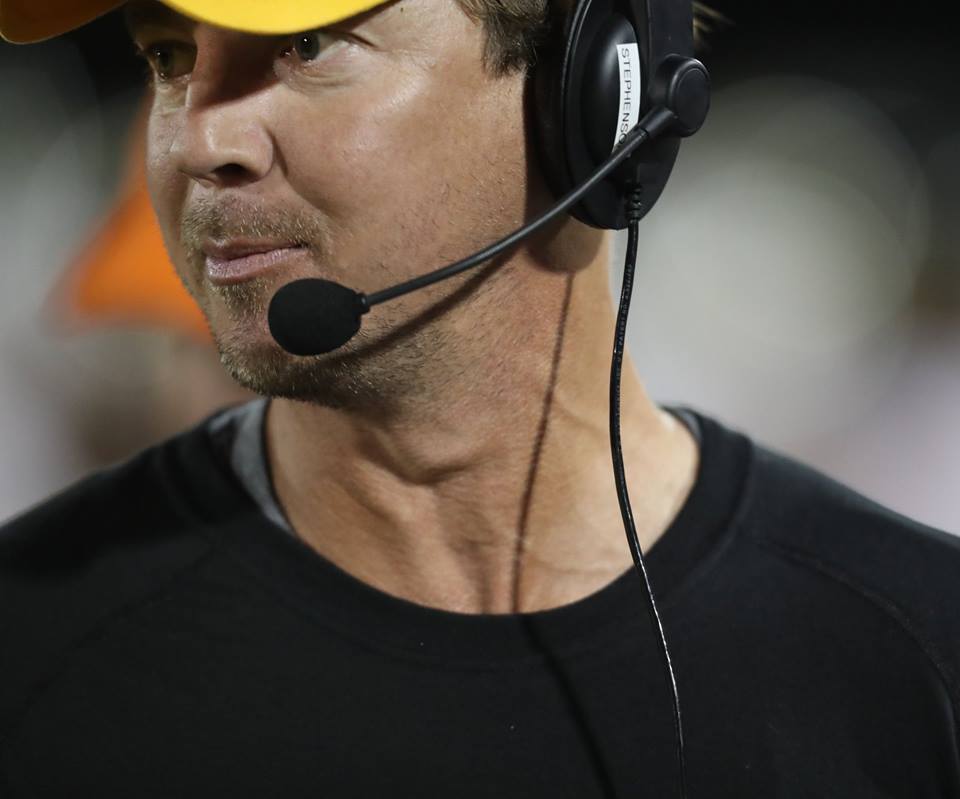 Clay Stephens
Football
Head Football Coach — Calhoun HS
First win as new HC of Calhoun Yellow Jackets on the Corky Kell Classic stage following in the footsteps of a Georgia High School Coaching Legend (Hal Lamb)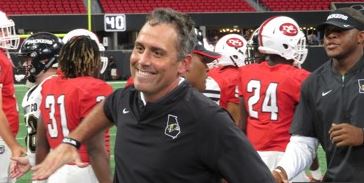 Justin Rogers
Football
Head Football Coach — Colquitt County
Coach Rogers opens up the Colquitt County 2019 Football Season with a 17-6 win over North Gwinnett in the Corky Kell Classic played in the Mercedez-Benz Dome in Atlanta on August 24, 2019! Coach Justin Rogers takes over a highly successful program after leaving a Jones County Football Team in which he amassed 45 wins and only 15 loses in the 4 years as Head Coach of Jones County High School in Gray Georgia. Coach Jones accepted the Head Coaching Position at Colquitt County High School in the midst of much turmoil surrounding the change in the position of head football coach at a school rich with tradition in the state and nationally.